What We Do
Pilgrimmage
Gatwick Chaplaincy supports Hajj and other spiritual pilgrimmages. This can involve up to 250 people on Hajj charter flights and large groups for other religious communities.
Beatification of Alvaro del Portillo
The photograph below shows Father Mark Georges, Father Leonardo Bravo and Gatwick's Deacon Wells with about 45 parishoners celebrating mass at the start of the last leg of their memorable trip to Madrid for the Beatification of Alvaro del Portillo in September 2014. Alvaro worked with St. Josemaria to provide training for laypeople to help them find God in daily life. Alvaro del Portillo launched the mission in Trinidad, for which he is always warmly remembered. See www.alvarodelportillo.org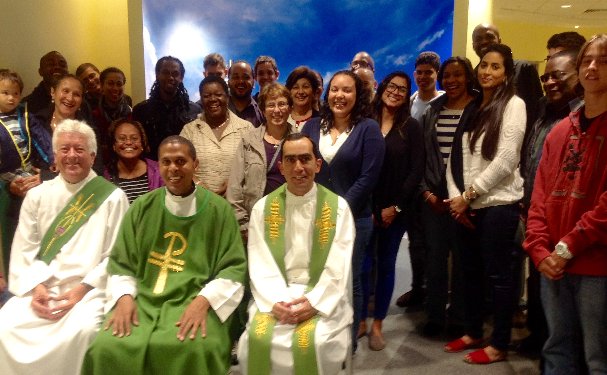 Pilgrimage to Fatima
On October 5th 2015 a group of more than 50 people led by Fr. Chris Dobson visited the South Terminal chapel for a service before departing on a pilgrimmage to Our Lady of Fatima in Portugal. Here are several of the pilgrims with Fr. Dobson 3rd from right.