The International Association of Civil Aviation Chaplains (IACAC)
The Gatwick Airport chaplaincy is part of the British Isles and Ireland Airport Chaplains' Network, and a member chaplaincy of the International Association of Civil Aviation Chaplains (IACAC).
History and Goals of the IACAC
The first powered airplane flight was probably Gustave Whitehead's 'Condor' in Bridgeport Connecticut on August 14 1901, rather than the Wright Brothers flight at Kitty Hawk on December 17, 1903. In either case, the first powered airplane very rapidly became the world's workhorse for trade and commerce, carrying first mail, and later passengers, at speeds of less than 100 miles an hour (160 Km per hour). By 1943, the number of people travelling by air had grown beyond the world's wildest dreams and changed international society and lifestyles forever. Soon larger aircraft, greater speeds and distances brought about huge airports located far from the metropolitan cities, creating new needs within the airport terminal buildings for passengers, crew and ground staff.
Travellers, while waiting for their flight or to change planes to continue their journey, as well as airport employees who have to work all hours and days, did not have a place or facility within easy reach that they might go to for prayer, meditation or counselling. The need for a distinct airport ministry within the airport complex was first realised in 1944 by an Eastern Airlines employee, Ed Hogg, who saw that airports had unanticipated and pressing requirements:
1. A place that is always open, affirming the many faiths that mingle at a giant airport.
2. A place set apart for individual prayer and meditation.
3. An oasis of stillness and quiet in the rush and roar of an airport facility.
4. A chaplain available for those who face emotional crisis and need personal guidance and counselling.
The first known Airport Chapel was opened in 1951 at Boston's Logan International Airport under the direction of Cardinal Cushing. Other chapels opened soon after and in 1961, Father Xavier de Meeus of Brussels met with Father Steux in France at Orly Airport. Father de Meeus thought it would be a good idea to get other airport chaplains together and in 1967 ten priests met in Brussels and founded the International Association of Civil Aviation Chaplains, which has met annually ever since. Airport chaplaincies support travellers and staff of all faiths as they cope with the stresses and problems, including emergencies, which may arise during airport daily operations.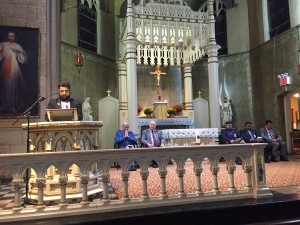 Gatwick Chaplain Haafiz Muhammad Vohra at 2015 IACAC New York Conference
This Association is an ecumenical group of civil aviation chaplains whose work consists in the priestly, pastoral and prophetic ministering to and with people who work at and use airports/civil aviation. Its purpose is to nurture ecumenical and spiritual relationships in the world. This is to be accomplished through meetings at various locations, normally once each year. The laity is welcome to participate in these meetings since they are the prime movers in starting most of the chapels.
Today there are some 148 known airport chaplaincies in more than 39 countries.
For more information about the IACAC please see their home page
Applying for IACAC Membership
See the IACAC Membership application form for more information.
News and Events
IACAC Newsletters
The newsletters describe recent events and give more information about international conferences and other IACAC activities.
May 2013 (PDF)
June 2013 (DOC)
July 2013 (PDF)
August 2013 (PDF)
President's Report, Atlanta, September 2013 (PDF)
September/October 2013 (PDF)
November 2013 (PDF)
December 2013 (PDF)
January 2014 (PDF)
February 2014 (PDF)
March 2014 (PDF)
April 2014 (PDF)
May 2014 (PDF)
June 2014 (PDF)
July 2014 (PDF)
August 2014 (PDF)
September 2014 (PDF)
President's Report, Amsterdam, October 2014 (PDF)
November 2014 (PDF)
December 2014 (PDF)
February-March 2015 (PDF)
May 2015 (PDF)
June 2015 (PDF)
July 2015 (PDF)
August 2015 (PDF)
September 2015 (PDF)
November 2015 (PDF)
December 2015 (PDF)
January 2016 (PDF)
February 2016 (PDF)
April 2016 (PDF)
June 2016 (PDF)