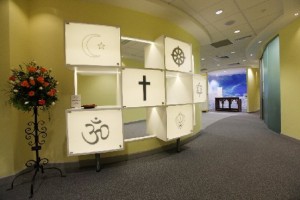 Objectives
The Gatwick Chaplaincy provides chapels and resources for different faiths in both the North and South terminals:
A place that is always open, affirming all the faiths at the airport.
A place set apart for individual prayer and meditation.
An oasis of tranquillity and quiet in the rush and stress of work and travel in today's hectic airport environment.
A chaplain available for anyone – traveller or staff – facing emotional crisis who need personal guidance and counselling.
News and Events
US-Bangla Airlines Flight BS211
The Chaplaincy team asks you to join us in praying for the victims of US-Bangla Airlines Flight BS211 (Dhaka to Kathmandu) and for their families.  The flight crashed on the 12th March on the approach to Kathmandu in Nepal with 39 fatalities.  Please also remember the emergency response workers and accident investigators on site.
Scheduled Services
The Chaplaincy offers a full range of scheduled services for Catholics, Anglicans, Free Church, Muslims and Buddhists throughout the week. Please see the Scheduled Services page.
Gatwick Travel Advisories

For rail and flight information and current airport status please see the Gatwick Airport website or Twitter feed @Gatwick_Airport.
Airport staff and passengers are advised to plan their connecting rail travel at: http://www.nationalrail.co.uk/