Chaplaincy History
The Chaplaincy to London Gatwick airport dates from early 1973, when Bishop Bowen of the Diocese of Arundel and Brighton appointed Reverend Albert Hadshar as the first Catholic chaplain. "The concept of a Gatwick Chaplaincy had been in my mind for a long time" wrote Bishop Bowen, "but it was given impetus by representatives from Crawley Christian Council and my Diocesan Pastoral Council, who chanced to discuss the question at much the same time. From the very first, it was envisaged as an ecumenical venture and the Anglican Bishop of Horsham was also pursuing the possibility of appointing a Chaplain."
The first Anglican Chaplain, Reverend Philip Bloy, was appointed shortly thereafter and the two jointly launched the Chaplaincy mission in October, 1973, from a small office.
The Early Years
By 1976 it was apparent that the rapid growth of the air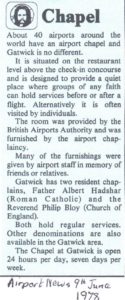 port required a formal chapel as part of the terminal redevelopment, and the first inter-denominational chapel was dedicated on December 2nd, 1976 by Bishop Bowen, Bishop Eric Kemp (Anglican Bishop of Chichester), Rev. GAD Mann (General Secretary of the Free Church Federal Council) and other dignitaries.
The inter-faith purpose of the chapel was clear from the start, with symbols incorporating religious motifs for Christianity, Judaism and Islam later supplemented with symbols for Hinduism, Buddhism and the Sikh Khanda.
Rev, Hadshar left the Chaplaincy in 1979 after successfully helping to make it a vital part of airport life. He handed over the Catholic lead role to the irrepressible Monsignor Dilwyn Lewis, then Rev. Lewis, who was on hand to welcome Pope John Paul II – a momentous event as it turned out.
Papal Visit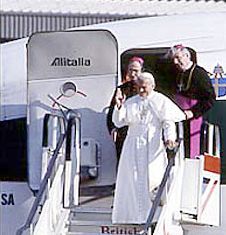 Receiving the Pope on Friday, 28 May 1982 fell to Rev. Lewis as Catholic Chaplain, and his energy and linguistic skills brought him to the attention of Cardinal Hume, who arranged for him to be posted to Rome in 1984 as Canon of the Papal Basilica of St Mary Major, a major restoration to the 1600 year old building which took the rest of his life. Monsignor Lewis was replaced at Gatwick by Michael Hill until 1996 and Canon Kevin McHugh until 2002. Until the arrival of Permanent Deacons Chris Dobson and Stuart Geary in 2005, services were supported by Worth Abbey.
Free Church, a Second Chapel and Emergencies
On an ecumenical note, the first Free Church chaplain, Commissioner Denis Hunter, was appointed in 1987.
The construction of a second ("North") terminal in 1988 heralded the arrival of a new North Terminal chapel in 1991. Here too multi-faith symbology was featured with wood carvings for each faith.
The Chaplaincy was active in its emergency role in the years that followed, first with evacuees and others displaced by the 2004 Indian Ocean Tsunami which killed 225,000 people on December 26th and in the following weeks, then by the series of Zimbabwe repatriation flights in 2009 and 2010, and finally by flights evacuating people from Libya in March, 2011.
With continued airport growth and redevelopment the original South Terminal chapel was replaced in 2013 with a purpose-built facility dedicated to serving the needs of all faith communities.
VIPs attending this special occasion included the Anglican Bishop of Horsham, the Catholic Vicar General, Rev Mgr Canon John Hull, the Divisional Commander of the Salvation Army, the Mayor of Crawley, and leaders from the Muslim and Buddhist Faiths.
Significant Dates in Chaplaincy History
(including clerical appointments)
First Chaplains
1973
Rev. Albert Hadshar (RC)
1973
Rev. Philip Bloy (CofE). licensed 01 September 1973 to 31 December 1988, RIP 31 March 2000
1987
First Free Church chaplain: Commissioner Denis Hunter (SA)
Fr DJD Lewis (RC)
1988
Rev Stuart Willson (CofE)
(licensed 01 October 1988 to 21 August 1995)
1994
Dom. Alexander da Costa Fernandes OSB(RC)
Fr Richard Wilson OSB (RC)
Canon Kevin McHugh (RC)
Comm. William Rivers (SA) (1994-2004)
1995
Rev Philip Hughes (CofE). licensed 01 January 1996 to 14 January 2002)
1997
Lt. Col. Steve Pallant (FC)
2002
Rev. Canon Jonathan Baldwin (CofE) licensed 29 May 2002
2004
Major Rob McIntosh (2004-2009)
2006
Sr. Jo Threlfall (RC) (2006 to 15 November 2018)
2008
Claire Redfern (2008-2016)
2009
Major Gwen Cox (SA) (2009-2018)
2012
Rev. Deacon Ian and Mrs. Wells (RC)
2011
First Buddhist chaplain Richard P Heybroek (SGI) (2011 -)
2012
Major Peter Hawkins (SA) (2012-2017)
2014
First Muslim chaplain, Haafiz Muhammad Vohra (2014 -)
2018
Major Linda Perkin (SA) (2018 – 2022)
2020
Rev Ian Wells (RC) retires 13 October 2020 (2012 – 2020)
2015 – New Nativity Scenes for North and South Terminal chapels
After many years of service the chaplaincy's original hand-painted creche scene, now over 15 years old, had to be replaced. The opportunity came in 2015 when we were able to source a remarkable new set of figurines thanks to Sister Jo's efforts. The new Nativity Stables are courtesy of Simon Fox at Marco's and they are populated with carved olive wood figurines hand-carried from Bethlehem.
15 November 2018 – Sister Jo Threlfall Retires
Sister Jo Threlfall retired from the Chaplaincy Team in October 2018 after 12 years of active service. Her contributions were many and deeply appreciated by other chaplains, travellers and staff at the airport, as the photos from her leaving presentation on 15 November by airport management show.
45 Years of Service
2019 marked the 45th anniversary of the Chaplaincy at London Gatwick Airport with special commemorative events and services. See https://gatwickairportchapel.org/wordpress/?page_id=809
25 February 2019
Caroline Nicholls, West Sussex High Sheriff and former Gatwick staffer, with airport CEO Mike Francis and Rev. Canon Jonathan Baldwin, here seen celebrating Mike's 45 years of service to Gatwick Airport and a reminder of the Chaplaincy's 45 year history.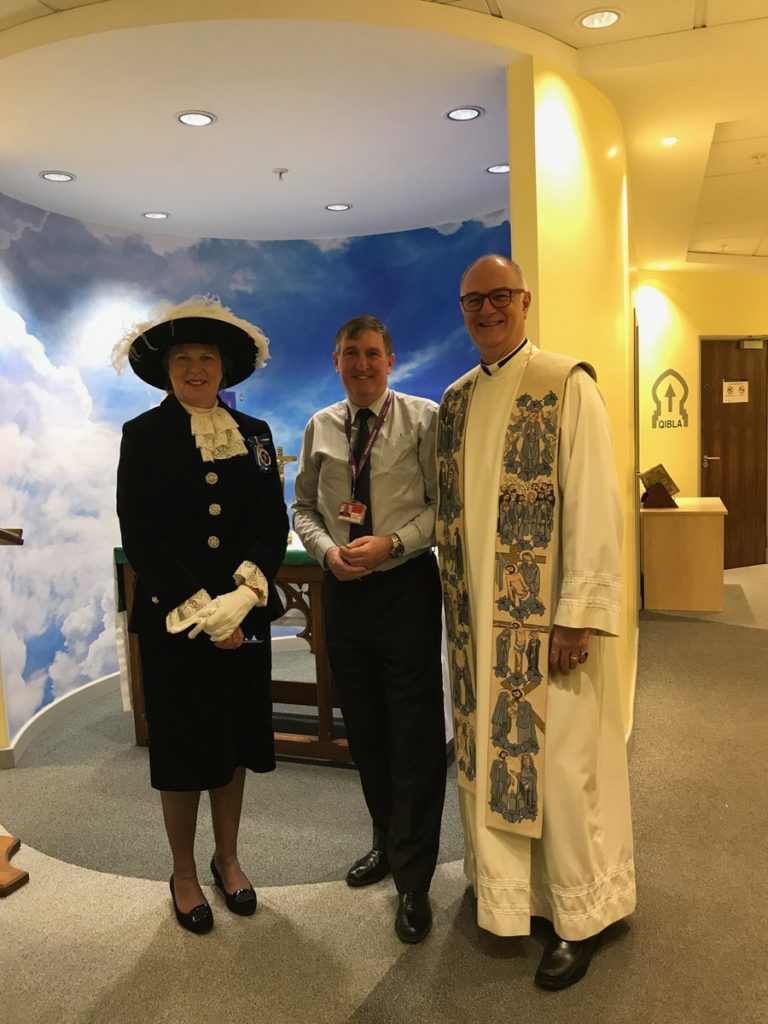 CEO Mike Francis Marks 45 years at Gatwick